Work with Us!
We are Committed to delivering high Quality products and services to our clients by working together as one Team. We believe in having Integrity and strongethical values and in doing so we build long-term relationships with each other and our clients. We constantly try to innovate, adapt and evolve through Continuous Learning and improvement initiatives.
Social responsibility is very important to us and it is deep-rooted in our culture.We hire people who share our values, who maintain strong relations and bring innovative ideas to the table. We believe in providing equal opportunities to all and emphasize on diversity and inclusion. Check out our open positions and apply today!
Vacancies:
Corporate Social Responsibility
We are committed to 'Building Integrity' through responsible business. As a leading distribution company in the region, we strive to be a role model in how we conduct our business by setting high standards of environmental management, corporate giving and maintaining a diverse and inclusive workforce. We are committed to long-term sustainability and that is what makes us one among the most admired companies in India.
We deliver our promise to Corporate Social Responsibility by contributing to local and state NGO's and operating our business ethically and with transparency. We have a dedicated committee assigned who initiate and drive CSR activities. This helps the group extend their reach to more people and build a sustainable ecosystem.
Life at Samrat
Our people are our biggest asset and we foster creativity and team spirit.
Corporate Social Responsibility
Personal Development initiatives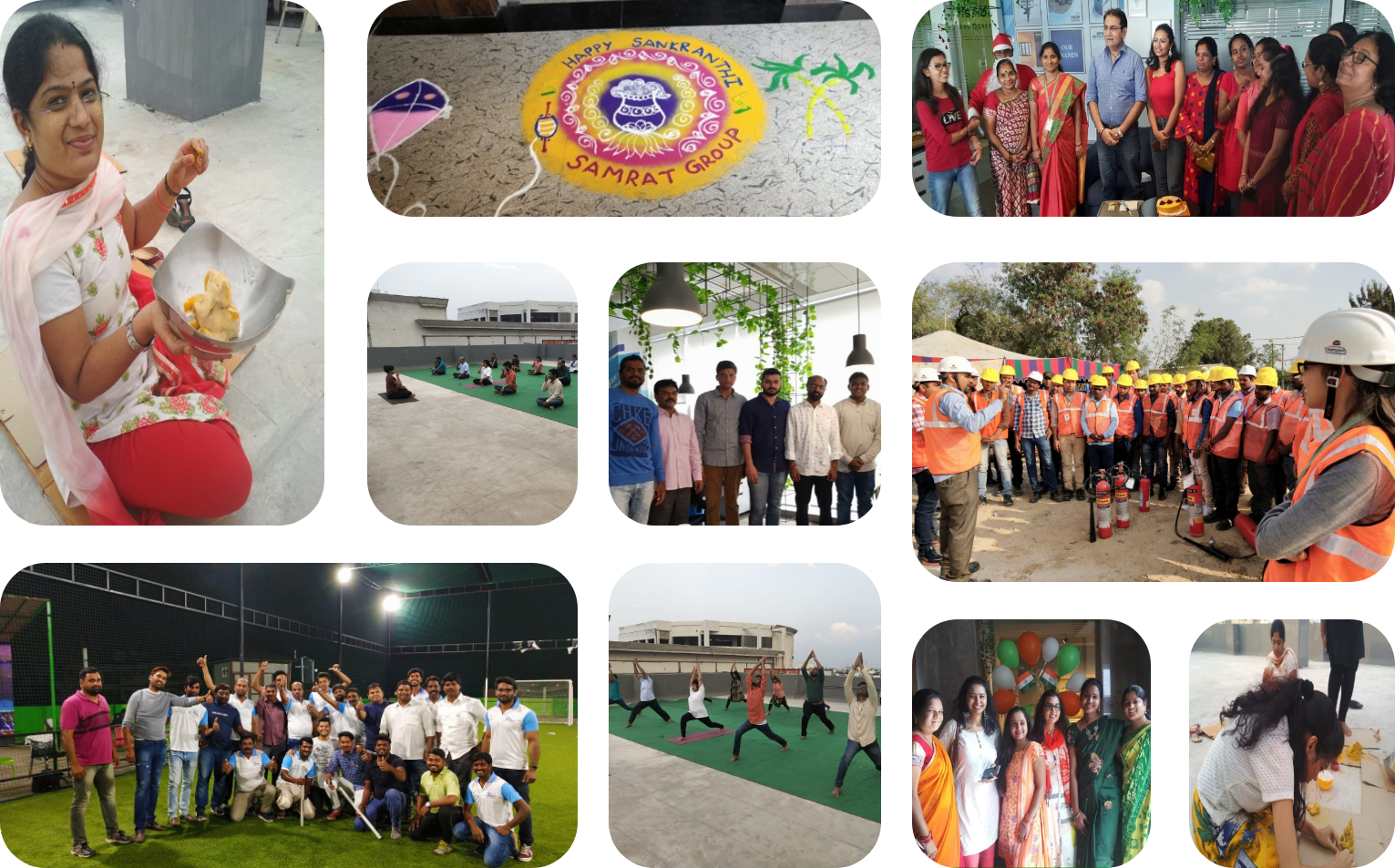 Meet the Team
Meet some of our stars!
Ramesh Babu
Ramesh Babu
Joined as an Area Sales Officer in 2009. Grew within the organization and was promoted to Branch Manager and is now currently working as General Manager for Tata Tiscon Projects for Andhra Pradesh region.
What do you like the most about Samrat?
The organization takes work ethics very seriously, systems for customer and dealer network are very transparent. The company also provides career growth opportunities. The work culture is open and we are very connected within departments.
Sai Sandeep
Sai Sandeep
Joined as a Customer Service Engineer in 2014. Grew in the organization and was promoted to Customer Service Manager.
What do you like the most about Samrat?
The working environment is great, you have the freedom to make your own decisions and flexibility to work. The organization enables and empowers you to perform. Employee safety and wellness comes first in the organization and we are all provided with Medical insurance for family & self. The company organizes several HSE trainings and wellbeing initiatives.
Naresh Mallevari
Naresh Mallevari
Joined as a Branch Manager in 2018 and was promoted to General Manager for Pravesh Retail.
What do you like the most about Samrat?
The company is people centric and employees are treated with respect and kindness. We are given the space to work freely and take complete ownership of our own processes.
Vennapushpa Nagireddy
Vennapushpa Nagireddy
Joined as an Area Sales Officer in 2015. Grew within the organization and was promoted to Area Sales Manager.
What do you like the most about Samrat?
The leadership team are very people oriented. High performance is recognized and rewarded. My manager also acts as my mentor and has helped me grow professionally. We work together as one family and we constantly help each other grow by supporting, encouraging and motivating one and other.